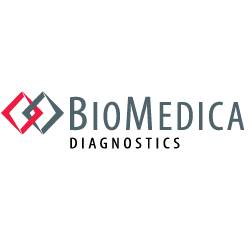 BioMedica Diagnostics
Haemostasis and Thrombosis Diagnostic Products
BioMedica brings innovation, quality, and affordable diagnostic products in the fields of Haemostasis and Thrombosis.
Bleeding profiles are screening tests (Activated Partial Thromboplastin Time, Prothrombin Time, Thrombin Time, Fibrinogen, D-dimer) designed to detect abnormal blood clotting. Based on the pathways of the coagulation cascade, the test results when interpreted together are used to identify deficiencies and defects in coagulation factors, the presence of inhibitors to coagulation factors, the effectiveness of blood-thinning medications, hereditary conditions, severe infections and liver problems. The bleeding profile may also be performed to confirm normal blood clotting prior to a surgical procedure.
Contact us if you would like further information on BioMedica Diagnostics or view more of our Clinical Diagnostics range.
---