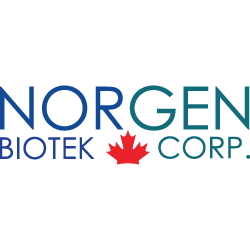 Norgen Biotek
Sample Collection, Preparation and Detection
Norgen's core product and service offerings fall into 4 categories: Specimen Collection and Preservation Devices; DNA, RNA, protein and exosome isolation and purification kits from all type of specimens; Molecular diagnostic kits for the detection of human, plant and food pathogens and  Services related to molecular biology including sample preparation, pathogen detection and NGS.
Norgen's sample collection and preservation products are based on proprietary technologies to allow for the chemical preservation of DNA, RNA and proteins within various human samples at room temperature. These kits allow for room temperature shipping of preserved nucleic acids and proteins in saliva, urine, blood and stool samples, and also allow for the long-term preservation of the DNA, RNA and proteins at ambient temperatures.
Norgen has successfully exploited part of its IP to develop hundreds of sample preparation kits for the purification of RNA, microRNA, DNA, cf-DNA, cf-RNA, exosomes and proteins from various sample types for both research and diagnostic purposes. These kits include the leading kits in the world for the isolation of total RNA and microRNA from all sample types, as Norgen's purification technology offers many benefits over competitor's kits. Norgen has an extensive line of products optimised for the purification of RNA and DNA, including cell-free circulating nucleic acids, from liquid biopsy samples including urine, plasma, serum and blood. The purification of these macromolecules is often the first step in R&D involving genomics, proteomics and Next Generation Sequencing (NGS), as well as for diagnostic applications.
Norgen offers over 100 kits for nucleic-acid based diagnostics. All of these products are PCR-based (End-Point or TaqMan), and include complete detection kits as well as primer sets and controls. This basket of products includes kits for the detection of human pathogens, food-borne pathogens and plant pathogens. These kits are being offered for research use only, and are ideal for use in surveillance of drug resistant pathogens, epidemiological studies, field surveillance of pathogens, and surveys.
Norgen offers a wide range of services including isolation services, PCR-based diagnostics and Next Generation Sequencing (NGS). Norgen's scientists are among the leading experts in the world in sample preparation, and therefore Norgen offers RNA, DNA, protein and exosome extraction services from all types of sample inputs including ultra-low liquid biopsies. Norgen also offer various molecular diagnostic services, including pathogen detection from plants. Norgen's comprehensive NGS services are carried out in an Illumina accredited state-of-the-art laboratory from sample isolation to sequencing and bioinformatics. Norgen is recognised as a leader in Next Gen Sequencing services due to the fact that they are able to use sample preparation expertise to work with small and difficult samples, including liquid biopsy samples. Furthermore, Norgen has developed their own proprietary workflows for NGS which offer competitive advantages and allow for deeper reads and more information to be obtained from samples. NGS services include Small RNA-Seq, mRNA-Seq, WGS (Whole Genome Sequencing) and 16s rRNA-Seq for Microbiome. Additionally Norgen offer NGS miRNA target validation by PCR.
Contact us if you would like further information on Norgen Sample Collection, Preparation and Detection or view more of our Clinical Diagnostics or Life Sciences range.
---