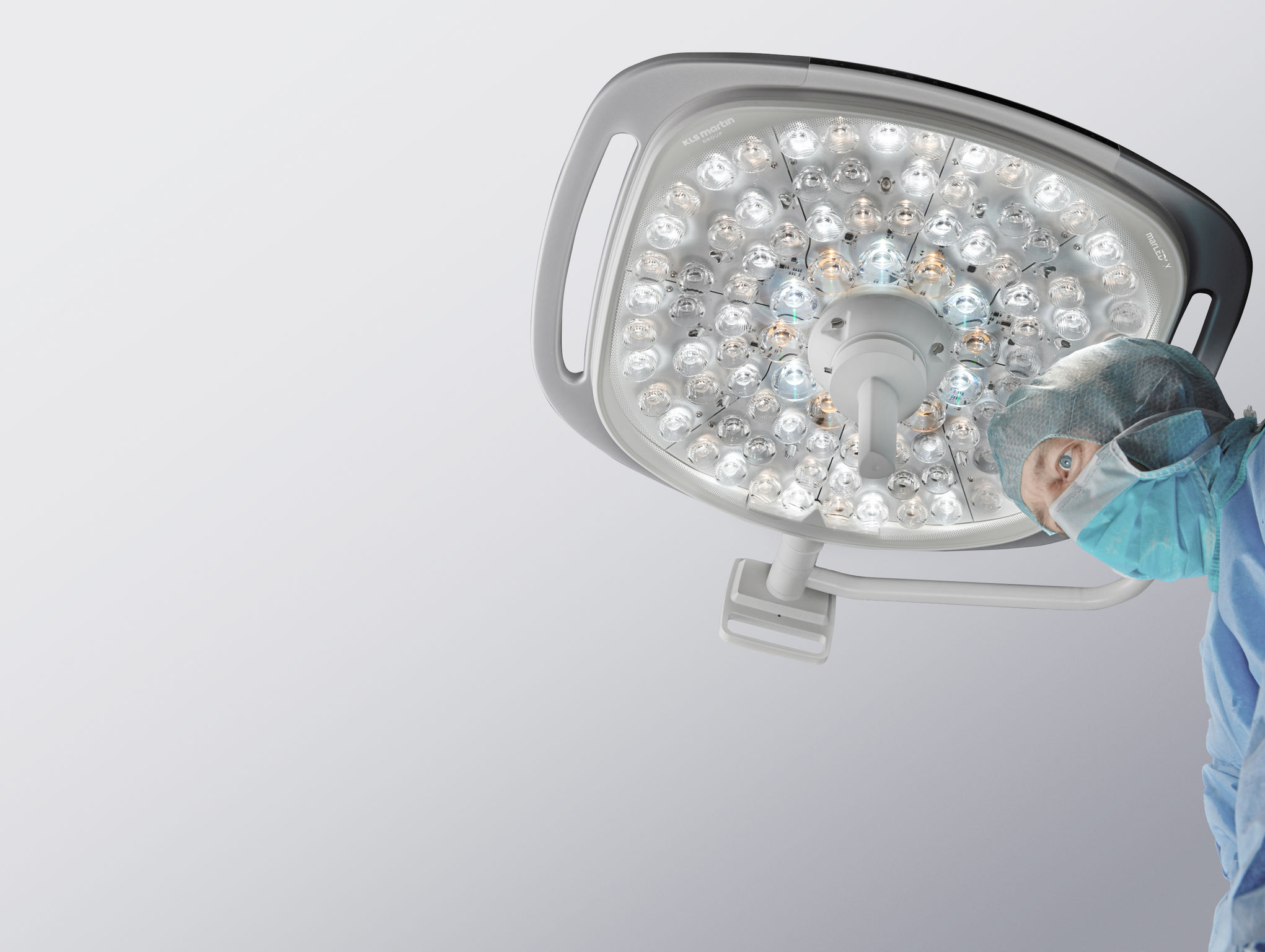 KLS Martin marLED X Series Operating Lights
The most versatile operating lights on the market
Operating lights are one of the most important elements in an operating theatre. It has a great influence on the course of an operation and is essential for every successful procedure. But every situation, every tissue and every user is different. What is needed is lighting that is so versatile that it is suitable for every situation and for everyone who operates it.
Hospitals are also under pressure to improve success rates while simultaneously reducing costs. Efficiency in achieving results is extremely important – for the budget and also to stay ahead of the competition. marLED X reduces the time required to set up the operating lights to a minimum and has a very long service life.
marLED X is more versatile for illumination than any other system. Even more: anyone can operate the light system at once without difficulty. No longer any need to learn how to operate it. Clear icons ensure that every action is completely intuitive. marLED X is extremely simple.
Xtremely flexible
You can manage all situations in the operating theatre with marLED X – regardless of the light intensity, size of light field or colour temperature required! Every single one of the 96 LEDs can be actuated individually. Variable light field geometry, matrix light function, active shadow management and LightTubeMax with separately configurable parameters give you the widest possible range of setting options.
Your benefits at a glance:
Warm white/cold white LEDs for brilliant, homogenous light
Variable light field geometry and matrix light function
Active Shadow Management for shadow-free illumination
Perfect illumination with 96 separately controllable LEDs
Maximum light field variability with innovative beam path concept
Xtremely functional
You have three options for operating marLED X. The control panel on the light for setting the main functions. The SensoGrip multifunction handle, which does not require you to look away from the patient, because all important settings are made simply by turning the handle. However, the best solution is the optional marTouch Pro control unit, which can be used for individual configuration of all parameters.
Your benefits at a glance:
Multiple control options for functions
marTouch Pro: has the greatest range of functions and can be individually programmed
Control panel: integrated into the light and controls the main functions
sensoGrip: multifunction handle for control of the most important functions by rotary movements
Xtremely adaptable
Set the light properties – exactly the way you want them
You can use the touch-sensitive marTouch Pro controller to adjust every parameter for your specific requirements during the operation. And even better: you can set your own "personal light", i.e. the precise light settings that you prefer. You can also control all the functions of the KLS Martin camera systems without difficulty. All completely intuitive with the self-explanatory, icon-based operation of the touch screen.
Your benefits at a glance:
Capacitive glass for touch-sensitive screen
Clearly laid-out icons for intuitive operation by tapping and swiping
Custom configuration of the light parameters
LightTubeMax as your customizable wellbeing light
Xtremely individual
Save personal presets – faster preparation for future procedure
marTouch Pro offers even more. It allows even more extensive customization. Settings can be saved for specific users and also for specific specialities– available immediately when required. This saves time and increases safety. You can change detailed settings with the expert function.
Your benefits at a glance:
User settings and settings for specialities can be saved – and recalled immediately when required
Expert functions for access to deeper light parameters
Illuminance, light field and colour temperature can be adjusted in steps or continuously
Customised startup actions can be set
Xtremely consistent
Adaptive colour temperature combined with excellent colour rendering – for a very natural view
The illuminance and the colour temperature can be set precisely and retained in order to create and maintain a consistent ideal light situation and mood. The colour rendering index is at the top level, as impressively confirmed by the outstanding quality of the marLED X system.
Your benefits at a glance:
Illuminance can be continuously adjusted from >30% to 100%
Backlight continuously adjustable from 1% to 30%
Colour temperature continuously adjustable from 3,000 K to 5,500 K – for perfectly adjusted contrast
Latest Bluetooth technology
Optional CAN bus for data transmission if radio is permitted in the hospital
Xtremely aseptic
Seamless and smooth surface – easy to clean and therefore extremely hygienic
The marLED X has a consistent slimline shape. Particular attention has been paid to a closed surface and flow-optimized housing design. Both features ensure that the body of the light can be cleaned quickly and thoroughly. The tempered safety glass of the operating light and the protection class IP55 substantially increase safety and service life.
Your benefits at a glance:
Functional slimline design of the light housing
Light-emitting area from genuine glass
Easy-to-clean closed housing shape – therefore extremely hygienic
Shape optimized for flow to prevent air turbulence
Suitable for laminar air flow systems
IP55: complete protection from dust deposits and moisture inside
Xtremely economical
The marLED X has a high cost/benefit ratio. The use of top-quality materials combined with the rigid quality measures of KLS Martin means that a long service life is guaranteed. Customized adjustable and saved parameters ensure precise reproduction of light situations and promote efficient surgical results. The ease of service during assembly and maintenance also reduces costs.
Your benefits at a glance:
Consistently high cost/benefit ratio due to top-quality materials and rigid quality controls
Long service life – high-tech LEDs designed for 10 years of uninterrupted operation
Reproducible light situations for efficient and successful work
100% "Made in Germany" – designed and manufactured in Germany
Maximum support thanks to software access via Bluetooth technology
Xtremely versatile
Take advantage of the wide range of accessories from KLS Martin to extend the options for use of the marLED X operating light. The accessories are designed to match the marLED X and therefore guarantee the best results.
Technical Data
| | |
| --- | --- |
| Operating light | marLED X |
| Anticipated service life of LED | 60,000 h |
| Light field diameter d10 small – large | 14 – 35 cm |
| Max. illuminance Ec* | 160,000 lx |
| Colour temperature | 3,000 K – 5,500 K |
| Dimmability | > 30% to 100% (backLite 1% to 30%) |
| Colour rendering index Ra / R9 / R13 | 99 / 99 / 99 |
Your benefits at a glance:
Consistently high cost/benefit ratio due to top-quality materials and rigid quality controls
Long service life – high-tech LEDs designed for 10 years of uninterrupted operation
Reproducible light situations for efficient and successful work
100% "Made in Germany" – designed and manufactured in Germany
Maximum support thanks to software access via Bluetooth technology